Mesa Yard Signs
Effectively advertise your event, business, or even your political campaign with Copyfast Printing's high-quality Mesa, AZ yard signs.
Also known as bandit signs or coroplast signs, yard signs are a more economical method of efficiently endorsing information like upcoming events, products, services, or even support for certain political candidates during the election season.
Copyfast Printing is the best local printing company that can provide the highest quality yard signs for your personal or business needs that perfectly fit your desired brand and budget. We have state-of-the-art tools and facilities to create Mesa yard signs of all types, from simple styles to fully customized units. We'll do our best to help you improve the visibility of your brand.
Call Copyfast Printing today at (480) 478-1898 for your Free Consultation with a Mesa Yard Sign expert!
Promotional Signs for Business
The effectiveness of yard signs as marketing and informational tools spans across businesses, charity organizations, and advocacy groups. Whether you run a non-profit organization, a retail store, or a service provider, we can provide strategically designed Mesa yard signs that can grab the attention of your target market.
Yard signs are effective tools for:
1. Creating good visibility for special events like fairs, local educational programs, marathons, and the like.
2. Promoting commercial products and services
3. Advertising special products like best-sellers, seasonal offers, or new releases
4. Informing local communities of upcoming events
5. Promoting soon-to-open business ventures
Copyfast Printing is a complete provider of printing and copying services. We are capable of providing high-quality customization, design, and production of all sorts of printed materials from yard signs and promotional banners to invitations and flyers. We can create single color to full-color digital prints. Even ready-to-print files can be fully produced on the same day. We prioritize quality and speed while remaining budget-friendly.
Custom Real Estate Signage
Real estate agents are some of the biggest users of yard signs. This signage works great for informing the public about open houses or homes and businesses for sale. Many real estate agents even have highly customized yard signs that showcase their brand and images.
Copyfast Printing is fully capable of creating fully customized Mesa yard signs, but we can do more than just that. We can also customize the additional parts of your signs, such as sign holders and other accessories, for a full package deal. In fact, we offer design and production services for all types of printing products from large-format banners to mailers. All your printing and copy solutions are in one company, Copyfast Printing.

Political & Campaign Signs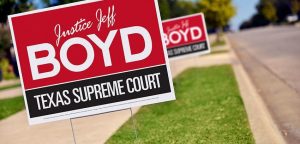 It is easy to see yard signs all around communities during election season. This is because yard signs provide great visibility and portability without the expensive costs.
Yard signs are so effective, convenient to use, and inexpensive that they are available for many purposes, including rallies and giving out promotional products to local communities. Copyfast Printing's Mesa yard signs can be specifically and strategically created to significantly boost local awareness about your political candidate or important cause.

Free Yard Sign Consultation
Copyfast Printing can get right to work as soon as you tell us your yard sign needs. We work quickly and efficiently while putting priority on the quality of our yard signs. Send us your designs or take advantage of our full-services to design and create your Mesa yard signs and every other printing and copy service you need.
Call Copyfast Printing today at (480) 478-1898 for your Free Consultation with a Mesa Yard Sign expert!