Tempe Coroplast Signs
If you're looking for efficient and cost-effective signage to advertise an event, business, or even a political campaign, Copyfast Printing's Tempe, AZ coroplast signs may be the product you need.
Coroplast signs are a brand of corrugated plastic products used mainly for signage and graphics. They are inexpensive, easy-to-handle, and highly effective visual tools that are a popular choice for marketing events, products, and business purposes. Also known as yard signs or bandit signs, coroplast signs are also popular products for endorsing political candidates or causes during election seasons.
For all your commercial printing needs, Copyfast Printing is here for you. Our experts are well-equipped with the right facilities and tools to provide industry-grade coroplast signs that are properly designed to perform your exact goals. Whether it's to endorse your political candidate or spread the word about your business's new products and services, your Tempe coroplast signs from Copyfast Printing will be effective in achieving your needs.
Call Copyfast Printing today at (480) 478-1898 for your Free Consultation with a Tempe Coroplast Sign expert!
Promotional Signs for Business
Coroplast signs are built to be effective visual tools for all types of businesses and events. Whether you run a retail store, a non-profit, or a political organization, our company is ready to provide you with durable, high-quality coroplast signs that are designed to achieve your exact goals. We can help you increase your visibility, efficiently inform your community, or market your business effectively.
They are prominently used for the following purposes:
1. Promote special events like fairs, marathons, competitions, or summer festivals.
2. Let the local community know important information such as where to find parking and local regulations.
3. Promote your business's products or services.
4. Advertise new or seasonal products
5. Make people aware of your construction activities and incoming business.
Copyfast Printing is a full-service printing and copying company. We are fully equipped to handle the entire process of bringing high-quality signs, banners, and other large-scale printing products to you. We can use your designs or we can handle the entire job from design to manufacturing with the highest quality of workmanship and attention to detail.
We'll make sure to finish the job on time and well within your budget.

Custom Real Estate Signage
The real estate industry is one of the most common users of coroplast signage. The signs are effective in promoting open houses, homes for sale, and businesses for sale. Real Estate agents often take advantage our our ability to create coroplast signs that fully customized to fit their brand.
Apart from customizing signs, we are also capable of providing supplementary materials, such as customized real estate flyers, mailers, and open house handouts. You can also ask our printing experts to create everything from large outdoor banners to promotional products to boost your real estate business.
Copyfast Printing is all you need for all your marketing goals.

Political & Campaign Signs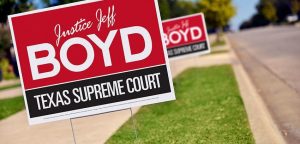 Copyfast Printing is also highly experienced in creating coroplast signs for political campaigns. They are a popular tool for endorsing political candidates and causes because they are very effective without being expensive.
With proper design and placement, coroplast signs are great for imprinting name recognition and brand awareness to the community. They are also easy to transport, hand out, and put up.

Free Coroplast Sign Consultation
With Copyfast Printing as your provider of industry-grade Tempe coroplast signs, you can get your products without having to wait for days while worrying about the quality of what you purchased.
We can create mock-ups that you can check for any changes you want to make. Once approved, out professionals will print your coroplasts signs quickly so they are ready and available for local pick-up as soon as possible.
Call Copyfast Printing today at (480) 478-1898 for your Free Consultation with a Tempe Coroplast Sign expert!